Burgess Kitten Food Complete with British Chicken
₦5,500.00
Burgess Kitten with Chicken is a complete food suitable for kittens up to one year of age and pregnant or nursing mothers.
Fortified with calcium
Contains natural antioxidants
Highly digestible proteins for growing muscles
Available in 1.5kg
Compare
Frequently Bought Together
Customers who bought this item also bought

Burgess Kitten Food Complete with British Chicken
Our Burgess Kitten food is made using premium ingredients to ensure excellent quality and superior taste. We use British protein sources combined with healthy cereals, natural antioxidants and essential nutrients to help keep your kitten happy and healthy.
 Smaller kibble specially designed for your kitten's small mouth
 Suitable for pregnant and nursing mothers to support growth and development throughout pregnancy
 *Highly digestible proteins and essential amino acids to build growing muscles
 *Fortified with calcium to support developing bones and teeth
 *Natural antioxidants to support your kitten's immune system
 Contains prebiotics and nucleotides to support developing guts
 With omega fatty acids to support healthy skin and a glossy coat
Feeding Guide
Introduce Burgess to your kitten by gradually mixing in the new food with the old over a period of 7-10 days until the new food completely replaces the old diet
Always ensure you are monitoring your cats weight to ensure a healthy weight. You should take treats into account when working out daily feeding requirements.
Always ensure fresh clean water is available for your cat.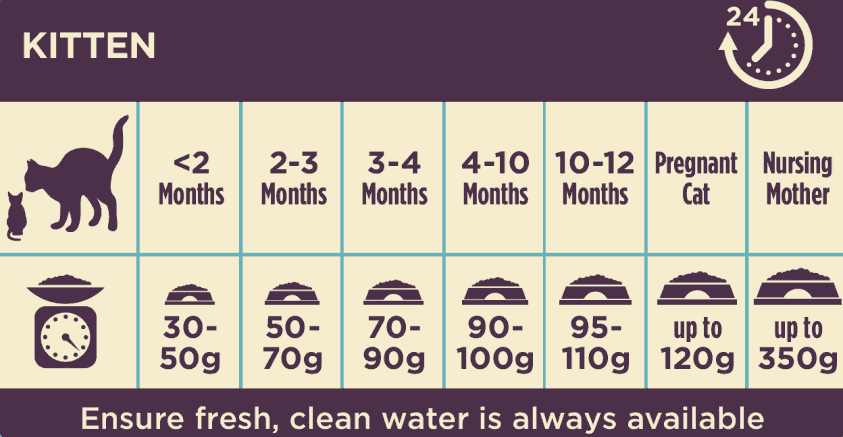 Nutrition
Analytical Constituents
Crude Protein 32%, Fat Content 16%, Crude Fibre 1.5%, Crude Ash 6.5%.
Composition
Chicken 43% (Chicken meal 27%, Chicken fat 10%, Hydrolysed poultry powder 3%, Chicken digest 3%), Rice, Maize, Wheat, Maize gluten, Unmolassed beet pulp (3%), Brewer's yeast, Soya bean meal*, Fish meal (1%), Egg (1%), Short chain fructo-oligosaccharides (0.4%), Potassium chloride, High nucleotide yeast (0.12%), Salt.
*May contain GM materials.
Nutritional Additives
Vitamin A (retinyl acetate) (E672) 25,000 iu/kg, Vitamin D3 cholecalciferol) (E671) 2,000 iu/kg, Vitamin E (dl alpha tocopherol acetate) (3a700) 250 mg/kg, Copper (copper sulphate pentahydrate) (E4) 20 mg/kg, Iodine (calcium iodate anhydrous) (E2) 0.55 mg/kg, Iron (ferrous sulphate monohydrate) (E1) 200 mg/kg, Manganese (manganese oxide) (E5) 24.2 mg/kg, Selenium (sodium selenite) (E8) 0.33 mg/kg, Zinc (zinc sulphate monohydrate) (E6) 428.6 mg/kg, Taurine 1,500 mg/kg, Methionine 2,500 mg/kg.
Technological Additives
Tocopherol Rich Extracts of Natural Origin 100 mg/kg.