PETSHOP PLUS®

Nigeria's Premier retail chain and online pet store.
In Nigeria's growing pet industry, where the needs and wants of pets and pet parents are diverse and evolving, we emerged in 2014 and since then have become Nigeria's foremost destination for all things pet related. With a commitment to providing unparalleled products, we have become a trusted and respected name in the industry. Offering a wide range of high-quality products, both online and in our plus-sized stores.
At PETSHOP PLUS®: We believe that every pet deserves the best, and we strive to make their lives happier and healthier.
With our Unmatched Product Selection, PETSHOP PLUS® serves as a ONE-STOP-SHOP, catering to all your pet's needs and wants. We cater to all supplies for your dogs, cats, or other exotic pets. Our extensive product range of over 600 carefully curated products is sure to exceed your expectations.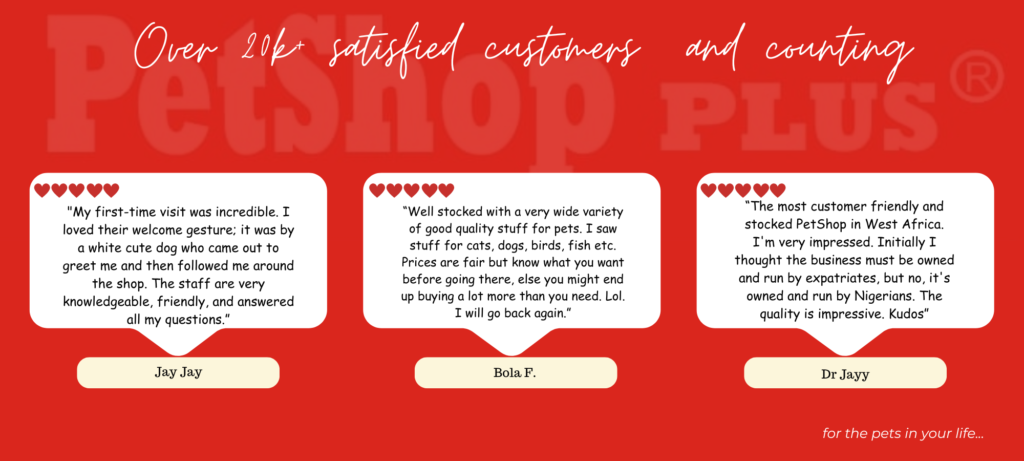 A Strong Presence
7 Super Stores
15k+ online community members
A decade and counting.
PETSHOP PLUS® has established itself as a leading pet resource centre in the country.
Since our establishment in 2014, we have made it our ambition to bring joy to the lives of pets and pet parents alike. Our unwavering dedication to this has driven us to become the largest stockist of private label and commercial label pet food, as well as other essential accessories for pets in Nigeria and this has been our story of success. We have cultivated strong partnerships with local and international suppliers, enabling us to offer an extensive selection of pet products.
All the products on our sites are either manufactured by us, manufactured for us, or distributed solely by us in Nigeria & Africa.
Delivering Unmatched Value
At PETSHOP PLUS®, we are committed to delivering to our customers exceptional value with unbeatable offers. We relentlessly pursue sourcing the best product in the industry ensuring that pet owners can access premium brands such as Royal Canin, MSD Animal Health, Animology, Petmate, K9 Power, Pedigree, Bullymax, FM Brown, Vetriscience, Johnson's Vet products amongst many others. Furthermore, our personalized and friendly customer service ensures a delightful shopping experience, both online and in-store.
Our Mission
Our mission is to be the most stocked, trusted, and convenient online and in-store destination for pet parents nationwide.
Our core values.
Commitment to excellence, innovation, integrity, and a passion for improving the lives of pets and their owners.
Our Culture
At PETSHOP PLUS®, we recognize that our most valuable resource is our people. We foster a culture that celebrates creativity, collaboration, and continuous learning.
Our team consists of smart, and passionate professionals who are dedicated to understanding the needs of pets and pet owners. We value diversity, encourage new ideas, and constantly strive to expand and improve our offerings.
Pets First
With us, pets come first. We understand that each animal is unique, with specific needs and characteristics. Our commitment to knowledge and expertise ensures that we reject anthropomorphism and instead focus on understanding and respecting animals. By prioritizing their well-being, we drive our business and innovations, providing products and services that align with this core ethic.
We stand at the forefront of Nigeria's pet industry, catering to the diverse needs of pets and pet owners. Our unwavering dedication to pets' well-being, paired with our focus on innovation and excellence, sets us apart as Nigeria's premier online and onsite pet store.
We invite you to an unparalleled experience with us at PETSHOP PLUS® as we continue to redefine the pet shopping experience and enhance the lives of both your pets and yours!
Connect with us on IG, Facebook, Twitter: @Petshopplus
Tel: +234 803 3059 367
Website: www.petshopplus.ng
Email: petsmartng@yahoo.com