ROYAL CANIN® KITTEN INSTINCTIVE POUCH JELLY
₦20,300.00
ROYAL CANIN® Kitten (in jelly) for Kittens up to 12 months old
Compare
Frequently Bought Together
Customers who bought this item also bought

ROYAL CANIN® KITTEN INSTINCTIVE POUCH JELLY
ROYAL CANIN® Kitten (in jelly) for Kittens up to 12 months old.
By the time a young kitten gets to be around 4 months old, their growth rate slows, but their activity levels skyrocket. With a developing immune system, growing bones and muscles, emerging adult teeth, and that skyrocketing energy level, older kittens need nutrition with more protein than a younger baby cat.
This wet kitten food is specifically to support a kitten's developing immune system, growing bones and muscles, and high levels of playful energy. Its precise ratio of proteins, fats, and carbohydrates matches the instinctively preferred macronutrient profile of your energetic kitten. Thus, ensuring long-term palatability. With easy-to-chew, tiny thin slices in jelly for a texture kittens adore, it's the perfect complement to Royal Canin Kitten dry food. Especially as your kitten transitions into a more grown-up diet of solids.
THE BENEFITS
Immune system support
Helps support the 2nd age kitten's natural defences by maintaining health.
Easy chewing
Small chunks in jelly texture.
Instinctively preferred
Nutritional profile instinctively preferred .
Ingredients
Composition
Meat and animal derivatives, vegetable protein extracts, derivatives of vegetable origin, cereals, minerals, oils and fats, yeasts, various sugars. Crude ash: 1.7%. Crude fibre: 0.6%. Crude oil fats: 4%. Moisture: 79.5%. Protein: 12%.
Additives
Vitamin D3: 175 IU, E1 (Iron): 3mg, E2 (Iodine): 0.38mg, E4 (Copper): 3mg, E5 (Manganese): 1mg, E6 (Zinc): 10mg.
Feeding Guide
Water should be available at all times.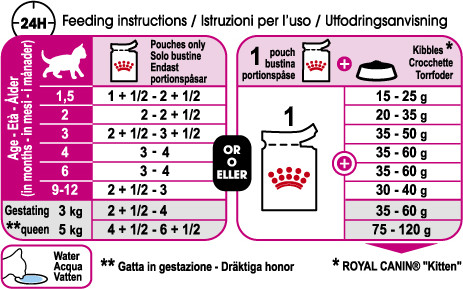 * Feeding amounts should be adjusted to suit your individual pet, based on their body condition score and other factors. Please consult your vet for further advice.